We carry a wide variety of hose and fittings to help keep your equipment up and running. We realize the value of having in stock a comprehensive range of hydraulic fittings and power hose to meet our customer needs. Having the right hydraulic components for the job is our key to providing great service.
In-Store or On-Site Hydraulic Services
We provide our customers with a walk-in counter service as well as an on-site emergency hydraulic hose repair service. The shelves in our Tralee store are stocked with a great variety of components and supplies to provide a quick and convenient one-stop-shop for our clients. We can make up industrial and hydraulic hoses in our hose shop or can customise to your specific needs. We cover everything from adapters, hoses, seals, cylinders, pumps, valves, hydraulic oil, hydraulic filters and much more. We can also make custom brake lines for various applications including cars, vans, off road vehicles, and heavy equipment.
Hydraulic Hose & Fittings
We carry a comprehensive stock of hydraulic hose at our Rock Street, Tralee store with sizes ranging from 3/16″ up to 2″. With braids of textile 1 wire, 2 wire, 4 wire or 6 wire and working pressures up to 15,000 psi. Our hydraulic fittings and adapters range from 1/8″ to 2″ and are in threads of BSPP, BSPT, NPT, JIC, SAE, UNF, NPSM, ORFS, Metric, Toyota, Komatsu, French Metric and flanges in 3000 and 6000 series.
Industrial Hose & Fittings
We are one of the largest stockists of Industrial Hose in Munster with sizes ranging from 3/16″ up to 12″ covering all types of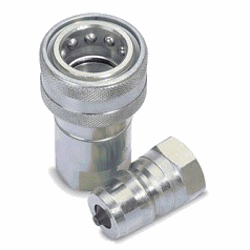 applications ranging from compressed air, gas, water, steam, food, oil, fuel, sandblasting, chemicals and marine. With our extensive stock from 1/4″ up to 12″ we have every type of industrial fitting available in all types of material including mild steel, brass, aluminium, polypropylene and stainless steel. The industrial range covers air, water, steam, cam and groove, holedall couplings, fire hose couplings and hygienic fittings. With a wide operating temperature range -150c + 500c all of our metallic hose assemblies are designed to be inert to virtually all chemicals and aggressive materials. Dependant on working pressure and temperature there are four different types of hose that KK Hydraulics can supply. Convoluted for extreme high working temperature, smoothbore PTFE for all purpose industrial applications at low pressure, Hydraline for general applications but with a greater bend radius and our TC range of high pressure PTFE hose with a good bend radius and a working pressure up to 500 bar, all complemented by a vast range of carbon and stainless steel inserts. The KK Hydraulics range of,quick release couplings is designed to make life easier for operators who need to connect and disconnect equipment quickly and easily. We carry in stock ISO A and B, Flat Face, high pressure screwed, trailer break and tipper couplings.
Contact Jakes or Willie Kelly at 066-712-2768 (from outside Ireland dial +353-66-712-2768) for more information on our hydraulic services.