KK Hydraulics offer a comprehensive range of heavy duty filters for all types of commercial vehicles, construction equipment, boats, trawlers and other applications at our shop in the CWS Complex in Tralee. Our specialist hydraulic filter range includes tank top filters, low, medium and high pressure filters, spin on filters, suction strainers, low pressure return line tank top and in line filters, metal or plastic filter breathers, tank top air breathers, suction filters, reservoir products, such as level indicators, temperature gauges, thermostats and more. The large range of heavy duty engine filters includes oil filters, air filters, fuel filters, coolant filters, transmission filters for off-road equipment, agricultural machinery, buses, trucks and marine vessels. We can also supply portable filtration units (filter caddies) and oil filter crushers.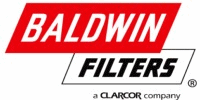 We have many years experience in filtration and can provide guidance and practical advice on hydraulic, lubrication and coolant filtration techniques that should be applied to fluid power systems in the field. We have the technical resources to provide the correct filtration technologies that meet your specific requirements.
We can supply a wide range of filter manufacturer's products, specifically distributing the Baldwin and Fleetguard product range. We can replace competitive and (OE) original equipment elements with high quality Baldwin or Fleetguard products. We can cross reference most manufacturer's filter elements and replace them with high quality replacement elements. We can supply interchange elements for Donaldson, Pall, Hydac, Internormen, Mahle, MP Filtri and more.
To order Baldwin, Fleetguard or other heavy-duty filters, please submit the Inquiry Form or call 066-712-2768 (from outside Ireland dial +353-66-712-2768) for more information.